A whole month is built around the NME Awards, with gigs around London providing entertainment for both new and established bands. The end of February brings all the build up and many musicians to the rock n roll Brits, no, Adele was not on the guest list, she may have been nominated, but she won…..Nothing! That alone deserves a shot of Apple Souz.
Here is an update, partly live from the table I was sat impatiently around, tapping away into a blackberry document, looking up while fiddling with how to drink and look cool at the same time, practically impossible, somehow managed to achieve, although not so quite, bare with the blurry eyed.
The NME awards were hosted by Jack Whitehall, the man of many funny words that at times, had me chucking away in my glass. And the back of my head.
All we were off, a run across the back end of the red carpet, media scum fight over the likes of Alexa Chung, Marina And The Diamonds, Happy Mondays Bez, who later confessed he will not be heading out on fore-coming Happy Mondays tour dates. I hope there will be an application to join the band. I could shake shakers and dance like a man on acid for an hour or so. Miles Kane arrives in a to die for red suit, the plan is to touch the material of his suit, ''oh sorry, my hand just slipped on the material''
Two Door Cinema Club seem to have got hair cuts, and looked rather slicked, most likely worked through a pot of hair gel for the evening. Graham Coxon, as always dressed an the casual tramp, the same as what you would see him surfing the internet in the same coffee bar in Hampstead, as was Carl Barat, he never brought his own camera, sucks, I wanted him to take another photo of me (see debut album cover, for inside joke)

The Vaccines looking rather damped all dressed in black, as where The Horrors, as where pretty much everyone, as was I, if you are wondering. Smiling in colour is never a must, you hear me?  Main topic of table talk was the Florence And The Horrors collaboration, and The Maccabees' performance.
''Everyone is here to drink and party, why not? Rock n roll is not dead right here, right now.''
Having been within eye distance of Mr Godlike Genius, most of the night, I started out looking at him and wanting to vomit my free pizza away. Come the end of the night, Noel was practically the God, all those lights shining on him, industry types shaking his hand. I just stared blankly. Personal reasons, I am not the greatest fan, but most seemed pleased that Noel was winning the award this year of fame from Dave Grohl, Paul Weller and The Cure. Compared to previous winners, Noel is a still young and has not achieved such to another winners, personal opinion, but I can understand the reasoning for him winning Godlike Genius.
"No little girl, I am not Annie Mac"
We are good to go, seats have been taken, lights on the stage. Let's go, I hastily disappear.
Back.
Noel Fielding is on stage with the typical child like humour, before introducing best buddies Kasabian, who have just roared straight into the ever defacing song 'Switchblade Smiles'. Loud is an understatement, the council estate ten miles away should have been able to hear them, that loud. Oh look members of bands are leaving the tables, naughty.
Best Solo Artist
Florence and The Machine, surprise. Last time I checked she had her a full band called The Machines, still digging the solo act.
Best Dancefloor Anthem
Katy B- 'Broken Record'
Katy commented on this being her first award she has ever won. She is wearing white, nice. She thanks her mum & dad too. The crowd politely clap.
Best video
Hurts – Sunday
Once again, I for do not realise how people have took to them until the NME awards every year, still don't quite understand the buzz. 'Suck It And See' should have won. Looking around, many people had thought also.
Jack Whitehall makes a joke about Lana Del Rey's lips. Love a good Lana awkward joke, I do.
"Has she had a lip job?  I reckon so; you don't get lips that swollen naturally…unless you've been on a date with Chris Brown'' 
Solo artist winner Florence And The Machine enters the stage, flowing in the typical floor length (I still believe this is due to the Leeds University crowd surfing incident). Florence sounded as big and epic as ever during a striped down version of  'Shake It Out'. Just listening to Florence is enough to make even our own lungs feel exhausted.
Florence stole the room away, and then wait for it, The Horrors re-create 'Still Life' with Florence on vocals, breath taking.
Best Festival
Glastonbury, for the 10th time, no surprise there really. Come on Melvin Benn, get off your backside and do something about this. P.s love the shorts Michael,  totally doing your legs justice.
Best International Band
Foo Fighters – guitarist Pat Smear did a video message, thanking the fans. Bore off.
Graham Coxon enters the stage to cheers of 'Coxon' to present the New Band Award and the winner was, dun, dun, dun…. The Vaccines. No surprise there, NME have hyped The Vaccines more than most could possible do. Luckily the hype matched their music (to must peoples opinions) and now The Vaccines have a middle fingered trophy, and are smiling.
Pulp win Outstanding Contribution Awards, then perform. I leave to breathe in other peoples cigarette smoke, suck on my straw, and chuck pizza at friends. Too rock n roll?
Meat Loaf become the laughing stock of the evening, after not showing up to present the award for Best TV show. Instead Festival Republic headliners aka joke band The Midnight Beast present the award to a show starring show NME host Jack Whitehall called Fresh Meat. I fell into a immaturely dose of hysterical, after the Mr Whitehall mentions that Meat Loaf was not here tonight due to the fact 'he shat him on Loose Women' true or not, I have too much alcohol already, must behave.
The Philip Hall Radar Award goes to NME's coolest person Azelia Banks, she is not here, must be all the candy at her headline shoe at Heaven.
Best Album - Skying by The Horrors YES!! YES!! YES!! Palms cannot handle the excitement, must stop smiling, I dislike.
The Vaccines performed 'If You Wanna' and 'Wrecking Bar' to floor shaking, the place bolted into frenzy, this was a Vaccines moment.
Best British Band - Kasabian, one of the rumoured Reading and Leeds headliners. Nice shoes Serge.
Best Live Band .. Muse… Wait…. NO WAY! Arctic Monkeys, who are not in the country at the moment, they have recorded a rather hilarious ladish video, more giggling behind my hair. Muse have not won, is this even legal?
The Maccabees took to the stage to an incredible set, watching them makes the heart sink into my lungs. Air is needed, as is more alcohol.
Best Track goes to 'Shake It Out' by Florence And The Machine, after tonight's performance, she deserved her second award of the evening.
People start singing to the VT of Noel aka God for the evening, makes a sharp exit singing '212′
..Party continues, at Hotel… Stuff happens… I lay for a while… Go to work…Writing this…
Look out for more in NME Awards gossip in detail in Future Rust, And Future Dust next Wednesday, for now, I have a jar of coffee to get drunk.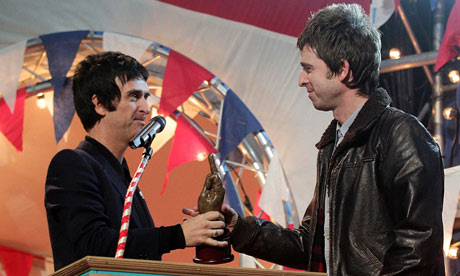 Full winners below.
Best British Band (supported by Sonos)
Winner: Kasabian
Best International Band (supported by T4)
Winner: Foo Fighters
Best Solo Artist (supported by Rekorderlig)
Winner: Florence + The Machine
Best New Band (supported by Boxfresh)
Winner: The Vaccines
Best Live Band (supported by Carling)
Winner: Arctic Monkeys
Best Album (supported by HMV)
Winner: The Horrors – 'Skying'
Best Track (supported by Fender)
Winner: Florence + The Machine – 'Shake It Out'
Dancefloor Anthem (supported by NME Radio)
Winner: Katy B – 'Broken Record'
Best Video (supported by NMEVideo.com)
Winner: Hurts – 'Sunday'
Best TV Show
Winner: 'Fresh Meat'
Best Festival
Winner: Glastonbury
Best Film
Winner: 'Submarine'
Best Music Film
Winner: 'Back And Forth' – Foo Fighters
Greatest Music Moment Of The Year
Winner: The Stone Roses reunite
Best Reissue
Winner: The Smiths – 'Complete Reissues'
Best Book
Winner: Noel Fielding – 'The Scribblings Of A Madcap Shambleton'
Hero Of The Year
Winner: Matt Bellamy
Villain Of The Year
Winner: Justin Bieber
Worst Album
Winner: Justin Bieber – 'Under The Mistletoe'
Worst Band
Winner: One Direction
Best Album Artwork
Winner: Friendly Fires – 'Pala'
Best Band Blog Or Twitter
Winner: @LadyGaga
Best Small Festival
Winner: RockNess
Most Dedicated Fans
Winner: Muse
Hottest Male
Winner: Jared Leto, 30 Seconds To Mars
Hottest Female
Winner: Hayley Williams, Paramore
Comments
comments