We are just days away from seeing which twelve lucky souls will be granted an inordinate boost in record sales thanks to the mysterious powers that be behind The Mercury Music Prize.
In 2011 The Mercury Music Prize stands for all that's good about music; invention, multiplicity, artistic endeavour and paying tribute to the sound as opposed to the image. But let's not forget that the Music Prize's creation was a cynical attempt to artificially inflate sagging album sales; there was no greater goal. In fact, according to Steve Lamacq you have to pay upwards of £10,000 to even be considered for the shortlist (a fee to entry, another fee for marketing, a bigger fee for a table at the event).
Sadly, decades on, music sales are still in the doldrums and with the validity of the album format in question, The Mercury Music Prize, for all its flaws, is still a vital tool capable of compelling even the most cynical of music fans and the tightest of torrent fiends to part with their hard earned cash. In many ways the winner is immaterial, after all, the Prize Board are perceived to have gotten it wrong more often than they've gotten it right. In reality the shortlist is what really matters, the twelve albums who will be plucked, in some cases from obscurity, to bask in the media limelight.
So with all that in mind I offer my personal choices to make the cut, in a special Mercury Music Prize edition of Stumble Into The Night. And yes, I will be giving my own bookmakers odds, so you can all laugh when I get this hideously wrong.
Wu Lyf – Go Tell Fire To The Mountain
Mystery men? Ad men? Corporate creations? Underground punks? Well actually Wu Lyf are a bunch of smartly dressed fellows from Manchester who've made it abundantly clear they have no time for, or relationship to, their city's rich musical heritage.
Whether that holds true in the long run remains to be seen (I seem to remember a certain Johnny Rotten fellow claiming he hated Pink Floyd and that lasted all of two years). What Wu Lyf do offer, aside from the mastery of marketing, is a carefully considered sound, full of character and delivered with a off kilter urgency. Gruff indecipherable vocals ride over gorgeous airy tones and rumbling bass grooves to create a distinct and inspiring LP, that certainly meanders, but never loses it's edge or beauty. 17/1
Katy B- On A Mission
I'm still fuming about the Mercury panels decisions to snub Alright, Still and It's Not Me, It's You, two brilliant pop albums that had a profound effect on the British pop landscape. In many ways, Katy B is a post-Lily Allen artist, but she's also a child of the dub step generation and, more acutely, she informed by the hook lead UK dance "7s of the 90s.
What makes On A Mission a vital and realistic contender comes from its core sense of modernity, adapting the post-dub step sound into an irresistible pop-product, without sacrificing intellect or artistic intent. Katy's lyrics are sharp "Easy Please Me" is an understated evolution of "Knock 'Em Out", "Perfect Stranger" perfectly encapsulates unspoken dance floor seduction, and both "Lights On" and "Katy On A Mission" are divine love songs, detailing the relationship between music, the individual and place. Fiercely independent but powerfully dependent, On A Mission is a love letter to music and the sensation of escaping mind, body and soul as you drift into the beat and onto the dancefloor.  8/1
PJ Harvey – Let England Shake
This one needs no explanation; it's a vital statement about the British at war. It's an urgent, inventive and frankly terrifying glimpse into a nation's psyche. Let England Shake is a great British record, in an intensely literal sense, and it should be celebrated. Let England Shake should win the Mercury Prize, but remember: the prize board don't do repeat winners. 9/4
James Blake – James Blake
I, like many, was very critical of James Blake's debut when it was released earlier this year. It was daring, exciting, brilliant and thoroughly chilling, but it also felt like the work of a peerless dub step producer and a wretchedly clumsy singer-songwriter. Who attempted to apply the same formula used to produce such beautiful skipping minimalist beats to lyrics and verse. The ghostly fragments that inform "Unluck" and "The Wilhelm Scream" are undeniably brilliant, however on "I Never Learnt To Share" and across the album as a whole, Blake appears naïve, needy and awkward, and not endearingly so, squeezing the je de vie out of his own work.
Thankfully, James Blake is so consistently majestic, and his sound is so brazenly modern, it's hard to avoid being swept away with his cloyingly depressive odysseys of space and warped, twisted, distorted sound. 4/1
SBTRKT – SBTRKT
There was a was a certain delight in getting hold of SBTRKT's debut album, listening to it anxiously, and then exhaling with genuine relief when you uncovered that it sounded nothing like James Blake. That's no insult to James, he's a wonderful challenging artist, but let's face it, there was a genuine fear that post-dub step would disappear into an abstract bleakness devoid of danceable beats and dominated by an oppressive despairing minimalism.
Now SBTRKT is no bundle of laughs, in fact it's finest moments are downbeat and full of regret, but the record possess an unremitting energy, for all it's space and subtly, it drives onwards, enticing and rewarding the listener. Less lurch and click, more beat and pulse, and that is nothing to be ashamed of, artfulness and abstraction don't always go hand in hand, and sometimes, as "Trials Of The Past" proves, introspection and the dance floor most definitely do. 20/1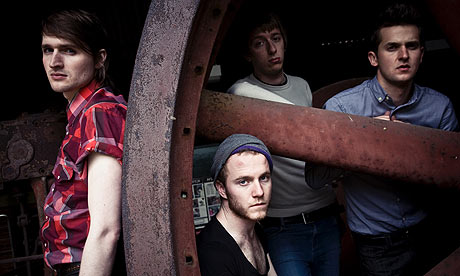 Wild Beasts – Smother
Wild Beasts should return for a second stab at the Mercury Music Prize after the brilliant Two Dancers missed out last year. A lot has changed in Wild Beasts world, rather than channeling social unrest and violence through catchy hooks and warped falsettos, Wild Beasts now offer a more considered, if no less high pitched approach.
Smother is a delicate and beautiful album, rather than thrashing into life, it feels restrained. Beats pitter and patter somberly, hooks emerge cautiously and recede gently; tone and the marriage of melody and harmony are placed at the forefront. Smother doesn't snatch and demand attention in the way that Two Dancers did, instead it lets the listener float into its world, drift away and get caught in one of the most touching and wonderfully listenable albums of the year. 17/1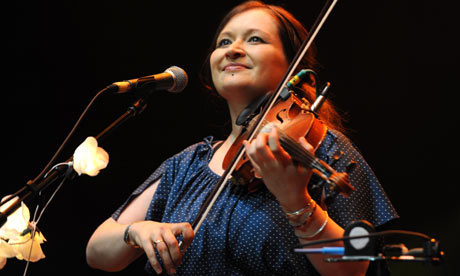 Eliza Carthy – Neptune
There's something terrible cliché about the Mercury's insistence and offering token Jazz and Folk entries each year. The problem is not so much that artists don't deserve recognition, more that their selection is so arbitrary and their chance of actually winning so slim. Now there's only one thing more cliché than picking a token Folk act, and that's picking Eliza Carthy as the token Folk act.
So in part I feel I must apologize, because under any other circumstance this would be an incredibly lazy selection, but this year, for the first time since Rice, Carthy really deserves it. When Faux-Folk is stampeding all over festival fields and dinner party tables, it seemed odd for UK Folk's most interesting voice to shun the genre's traditionalism (what's new right?) and launch a collection of gorgeous quasi-pop ballads (I'm sure you'll remember that didn't go too well last time).
In 2011 however it's a riot, as Carthy finds herself in the role of the engaging women of the world full of worldly comic stories. Carthy delightfully drops out of her beautiful singing voice and into her regional accent and a series of impressions with comedic aplomb. There's a lovely Tom Waits-y feel to the record, and at points you feel as though your hearing Joanna Newsom reimaging Tom Jones abroad a crazy cross continental pirate ship (that's a very good thing, in case you were wondering).  200/1
 Wiley – 100% Publishing
This was a tough choice. Wiley's latest offering is thrilling and most of all fun, but it's also frustratingly inconsistent. Ultimately, however, it goes to show that when Wiley sets his mind to it, he can conqueror whatever style or sound he wants to. Oddly, considering so much of 100% Publishing is a reaction to Wiley's supposed commercial sell out moment "Wearing My Rolex", this is one of Wiley's most catchy and unashamedly poppy records to date. It's jam packed full of potential singles and clever hooks. If the Mercury panel want to reward one of the UK's most prodigious talents, who can't quite put it all together himself, then Wiley is their man. 90/1
The Horrors – Skying/ Cat's Eye's – Cat's Eyes
I don't see the Mercury's nominating Faris Badwan twice, but I also can't pick between his two respective outfits. Cat's Eyes with it's atmospheric re-imagining of the '60s girl groups aesthetic is about as in vogue as it gets artistically, while The Horrors' Skying has not only proved to be a commercial triumph, but also a sign that Faris and co. might just be able to pen the kind anthemic pop choruses worthy of their stylish, albeit retrospective, artistic scope. 45/1
Robert Plant – Band Of Joy
Two folk/roots offerings in one year? Why not. A covers album? Why Not. An established legend who hardly needs a profile boost? Why the hell not.
Band Of Joy was one of last year's finest albums, it was a brilliant introduction to the kind of rootsy-Americana that so many Brits are interested in, but struggle to know where to begin with. Band Of Joy was the perfect introduction, more so thank Raising Sand, it was sublimely sung, vibrantly performed and, well as redundant as it is to say, it was a joy to listen to. I suspect however, Plant either won't bother to enter, or will be simply be overlooked. 150/1
Big Names, Outside Shouts, and Albums I've Yet To Experience:
Adele – 21: The Mercury Panel rarely pick the big populist crowd pleaser, but they do nominate them, and I'm sure the panel will be eager to get the world's hottest pop star in attendance. 12/1
Anna Calvi – Anna Calvi: This albums sounded gorgeous and it's style was unquestionable, but I wasn't wowed by Anna's lyrical content, but it's a definitely the type of record the Mercury's like. 19/1 
Arctic Monkeys – Suck It And See: Gorgeous pop songs and a return to arena filling form, but if Humbug didn't warrant a nomination will Suck It And See? 40/1
Bellowhead – Hedonism: I hated this record, but the Jools Holland brigade loved it, an outside chance to represent folk perhaps? 75/1
Elbow – Build A Rocket Boys: A low key, intensely human take on arena level indie, could that Glastonbury performance be enough to sway the panel? 55/1
Friendly Fires – Pala: I still haven't listened to Pala, but Simone cannot stop raving about this record, and there is a lot of positive buzz coming from industry types, a nomination seems entirely plausible. 45/1
Ghostpoet – Peanut Butter Blues & Melancholy Jam: This is a tough year to pick a UK Hip Hop representative, could this year they get multiple noms? Maybe not, Ghostpoet might prove a little too clever for his own good. 90/1
The Leisure Society – Into The Murky Water: I liked this record more than most, but it's almost too charming for consideration. 300/1
Mogwai – Hardcore Will Never Die: It's a good Mogwai record, if the Mercury's need a respectable slot filler that clearly won't win, why not call on Mogwai, they deserve the sales boost more than most. 200/1
Noah And The Whale – Last Night On Earth: Another record I've yet to hear, but one which our staff has been raving about for months, who certainly fit the Mercury bill. 80/1
Radiohead – King Of Limbs: They snubbed In Rainbows but do you make up for that mistake by elevating a good but not great offering? 70/1
Tinnie Tempah – Disc-Overy: I've not listened to this record, but if the Mercury Panel are looking for a high profile UK rap representative, Tinnie certainly fits the bill. 40/1
Yuck – Yuck: Yuck do a really good impression of other better bands, but is that enough to warrant a nomination? 100/1
Sidenote: I'm really willing Kate Bush to get a nomination and actually turn up to the event, but I'm not tempting fate. 500/1
Comments
comments