Jay-Z & Kanye West – Watch The Throne
Informing a cold impatient audience at the end of an intolerably indulgent eight-minute monologue that the world is treating you like Hitler is about as tactless rock star solipsism gets. But then again, maybe Kanye had a point; after all few other figures could spew of eight minutes of morose but vaguely important sounding gibberish and hold a 40,000 strong crowds attention.
The tenuous comparison between genocidal maniac and hip-hop superstar goes further than one might expect, however. Kanye might not be the historic hate figure he perceives himself to be, but he is a ruthless dictator.  A creative dynamo intent on expanding hip hops borders at all costs. A tireless modernizer, the maximalist catharsis of My Beautiful Dark Twisted Fantasy was a landmark release, and while Watch The Throne has little in common with Mr. West's latest masterpiece, it is nonetheless defined by Kanye's production and sonic innovation.
Auto-tuned choirs may be on the outs, but Justin Vernon (Bon Iver) is still in, as he becomes an improbable funk superstar on "That's My Bitch", while Frank Ocean has been recruited to bring a majestic veneer of a chorus to the improbably soulful marching beat of "No Church In The Wild". The Odd Future singer finds himself cooing over a warped, faded, and sustained loop of his own vocal, in-between chopped up blurts of James Brown and auto-tuned squeaks. It's a sensational work, but it feels like old news compared to Kanye's assault on black cultures enduring icons.
James Brown built his legacy on explosive burst of energy, but Otis Reading is soul at its silkiest; it's remarkable then, to see his sombre vocal warped into a series of skittish yelps, as if the soul legend is pleading and yearning to break free of his sonic chains. "Otis" is an improbably jerky funk fest, as if Kanye is single handedly reclaiming white boy funk from the 70s-post punk pioneers with his snatched sample led assault.
Kanye restores Nina Simone's virtuoso soul on the sensational "New Day". Teaming up with RZA, Kanye auto-tunes Simone's covered to death "Feeling Good" over a low key beat, mixed with his trademark uplifting horns, and his newest toy; haunting smears of distorting guitars. The end result is staggering sound more reminiscant How To Dress Well's Love Remains, or James Blake, than anything in West's back catalogue.
Lyrically, Kanye and Jay aren't as awe inspiring, instead they're content to have fun, and while hip hop boasting has become insipid, it's hard to avoid vibing along to Jay's skipping rhymes on the riotous "Niggas In Paris". When they do turn from the Flux Pavillion sampling frivolity of "Who Gon Stop Me" to more serious fare, Jay and Kanye bring their A-game. "Murder To Excellence" sees Kanye in the kind of societally reflective mood not seen since his College Drop Out days. The chilling track, is a tragic lament concerning "Black On Black Murder", highlighted by a series of cutting couplets that suck the oxygen out of the room:
"It's Time For Us To Stop And Redefine Black Power, 41 Souls Murdered In 51 Hours…314 Soldiers Died In Iraq, 509 died in Chicago"
Even when Kanye and Jay turn back to their own success, the message stays bleak with Jay-Z pausing for thought on his assent: "Domino, Domino, I Only Spot A Few Blacks, The Higher I Go". Before Kanye knocks it out the park with the track's unsettling endnote: "If You Picture An Event Like A Black Tie, The Last Thing You Expect To See? Black Guys. What's The Life Expectancy Of Black Guys? The Systems Working Effectively, What's Why."
"Murder To Excellence" isn't Watch The Throne's finest effort, but it is testament to the rappers' heartbreaking capacity. Having crafted an album of intoxicating funk, sexy grooves, and carefree feel good lyricism, the sudden shift in tone is doubly affecting. Sadly, West's self obsession allows Watch The Throne to fall at the final hurdle, as West wastes a poignant Frank Ocean chorus on "Made In America" by deciding to, yet again, whine about South Park making fun of him. If this decision wasn't cringe worthy enough, it's juxtaposed with a chorus that stresses the debt owed to the sacrifices of Martin Luther King and Jesus, among other.
Either West genuinely thinks his struggle to overcome late night cartoon satire is comparable to the struggle for civil rights, or the genius producer lacks any kind of tact or personal awareness. A month ago, it would have been tempting to suggest that Kanye simply had a flair for overstatement, but after directing eight minute rants at his own fans, and one ludicrous Hitler comparison, the superstar rapper may well just be self involved to a deluded extent.
As obnoxiously portentous as this may sound, Kanye West proves impossible to second-guess, and why would you when he's making music this brazenly modern and expansive. Kanye is so peerless in his pursuit of progression that he's managed to invigourate a stale Jay-Z in the process, and while there may be a lengthy queue of haters anxiously waiting for Kanye to misstep, there's an even longer line of would be collaborators eagerly awaiting Mr. West's call. [4.0/5.0]
The Stumble Into The Night Top Ten:
New Feature Alert: I don't get to discuss all the great music relate releases that I'd like to, so to get around this problem, and to keep you informed of all the coolest products on the market, I've created my own Top Ten Chart. Some products will last for weeks on the chart, others will nip, in and out, and I just hope you'll enjoy it.
1.    Simon Reynolds – Retromania 
Simon Reynolds legacy as one of the great music writers of the last thirty is assured, but with Retromania he becomes one of the great social commentators. Drawing together the worlds of music, fashion and technology, he argues that pop culture has become addicted to its own past, and that innovation and futurism are being snuffed out. Retromania is a vital rebellion against our ongoing cultural crisis delivered in the form of a fun and engaging assessment of today's music world.
2.    Lana Del Rey – "Video Game" 
"Video Game" is arresting, it grabs your attention instantly with a piercingly familiar mix of descending harp strokes, strings and keys. Beautiful melancholy is achieved before Lana's chillingly sedate vocal glides into action. The chorus is mammoth, but restrained, as Lana remains delicate but steely. If there is any justice, "Video Games" simply has to be one of the biggest of hits of the year.
3.    Girls – "Vomit" 
I was so wowed by Girl's latest effort "Vomit" that I dedicate my weekly feature over at In The Name Of to this track and its new video. Sinister beyond belief, "Vomit" is an improbable quasi-ballad that goes from almost psychopathic neediness to one of the most serenely uplifting choruses in recent memory. Girls have come so far from their Costello-like debut, it defies belief, and "Vomit" is simply their latest evolution as Christopher Owens continues to position himself as the most exciting song writer in all of indie music.
4.    Washed Out – Within And Without 
So I have a confession to make, I didn't go and see Washed Out this past week, yep, I had the tickets and I wussed out. I also planned to see FOE on Monday, and I skipped that too. The idea of walking through the streets of North London at the height of the riots didn't really appeal to me, sadly the thought of seeing Ernest Greene and his friends attempting to bring Washed Out's haunting slight and shimmering soundscapes to life did. Unfortunately I missed out, but no one should miss Ernest's '80s obsessed Chill Wave odyssey, the sound is intoxicating, as its soft siren call forces you to drift in Washed Out's sea of textural tranquility.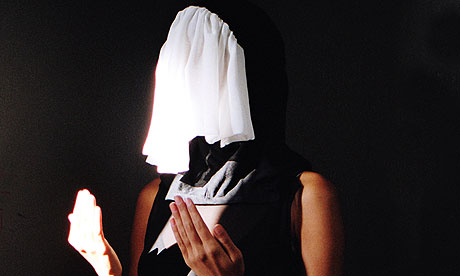 5.    Ayshay 
Muslim trance? Well that's what artist and music critic Fatima Al Qadiri calls it, and I'm not one to argue. Looping, chopping, and delicately blending vocal samples, Ayshay as Fatima prefers to be known, pulls you into complicit state with a mixture of elongated keys and hymnal chants. An intellectual muso fad? Possibly, but Ayshay is simple too interesting, and too exciting to be dismissed so readily.
6.    Jay-Z & Kanye West – Watch The Throne 
See Above
7.    Rob Young – Electric Eden 
It might be considered a risk to place a book that you've yet to read in a top ten, but in this case I feel assured. Rob Young is a capable writer, and he has dedicated a considerable amount of time into documenting what I'm sure BBC Four would label Folk Rock Britainnia. Electric Eden tracks a cultural evolution as British folk transformed, informed, and defined the evolution of popular culture. A work of this breadth and ambition has to be considered. An essential purchase for dot-joiners everywhere.
8.    Kendrick Lamar – Section.80 
Kendrick Lamar's debut is mesh of conflicting styles. As a vocalist, Kendrick skips from rap to r'n'b and his flow manages to hop from Kanye West to Lil Wayne before dropping into some Andre 3000. Dissapointly Kendrick does remind you of other rappers, but while his delivery techniques aren't knew, his skipping reflective soundscapes are anything but conventional. Lamar minimalist beats, burbling synths, and shimmering textures are as cutting edge as anything coming from America's indie scene. Section.80 is about as essential as debuts get.
9.    Feist – "How Come You Never Go There"
Feist is back, and it's about damn time. Sure James Blake's cover of "Limit To Your Love" was enough to tide us over, but their nothing like the real thing, and if you're after soulful vocals and heartbreakingly minimal arrangements then this is the track for you. Yet more delicious understatement from one of Canada's finest.
10.  XOYO is One – Jamie XX 
XOYO in London is celebrating its first birthday in September, and who better to play their big party than the most in demand DJ in all of music, one Mr. Jamie XX. Get your tickets now.
Comments
comments