Finally we submit the last part of our BBC Introducing Bands series. This year has seen a much needed boost for the future bands of Reading and Leeds. Here we give you the low down on the remaining acts playing Reading on Sunday and Leeds on Friday.
-For The Friday Bands Click Here
-For The Saturday Bands Click Here
Brighton based band Tall Ships have been described as mixture of Foals math-rock meets the indie funk of Battles and The Futureheads, one thing is for sure, Tall Ships music is sounds rather intelligent. A confused intelligence: are they trying to sound indecisive creating a pool of psychedelic chillwave? Tall Ships songs start rather slow, with lots of different tempos, making the tracks rather confusing but the climax gets going, worth every thrill. Simone F
 Ifan Dafyfadd
Ifan Dafydd will be bringing his sensuous mix of dub and ambient electronica to the BBC Introducing Stage this weekend. He is promising to cram as much into his set as possible, so expect maxilmalist-minimalist contrasts of "Miranda" but also expect to hear some crafty remixes of Lianne La Havas and Amy Winehouse. Think James Blake with a bit more humour and a less depressive atmosphere. David Hayter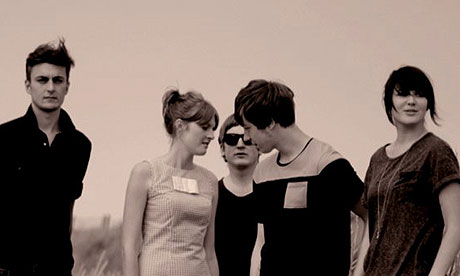 Brooding London based Deaf Club are the type of band, who leave your music buds wanting and praying for more music. Whizzing around darkly in shoegaze, Cure-alike-goth with a built up of tension deep enough to make your shoulder go 'aww' at the thought of the end of the song. Deaf Club are a must see for fans of Esben & The Witch, yes they're that tingling broody from start to end.  Simone F
We Walk On Ice
London duo We Walk On Ice should win over fans of enticing alternative rock. Understatement is the order of the day, even as the band plead for a rescue on "Follow Trees" they sound glorious restrained and murky. Oddly the pair managed to make violence sound sweetly seductively as their tracks loosely glide. They're more melodic and infectious than 2:54 but they're shabbier than Kyla La Grange – sonically they're perfect for Reading. They can be ragged, epic, melodious, tender and gloomy all at once, what's not to love? David Hayter
Angry teenagers Marmozets are on a mission to cause chaotic mess everywhere they go, after catching up on their live show footage, I for one am massively impressed (coming from a self confessed Indie fan this is hardcore, literally) Marmozets will be bringing their blend of energetic mathcore to the tiny stage in the fields, not sure how the band will go down, but I for one can imagine a riot of destructive sweat. Simone F
Dingus Khan
Their name may draw skepticism, as does the Simpsons inspired song titles like "Knifey/Spoony", but Dingus Khan should be a riot live. They may have the look of serial killers, but luckily they only come packing spoons, as they bring a tongue in cheek, but still committed, blend of loose Libertines style Indie to the BBC Introducing Stage. David Hayter.
Empror & Duppy Beatz / Empz & Duppy Beats
The official site calls this band Empror & Duppy Beatz, their YouTube channel calls them Empz & Duppy Beats, Google search came to pretty much nothing. The Hip Hop duo are from Bristol and have played with the likes of Chase & Status  and Benga, names I am sure not much of the Reading and Leeds festival crowds are aware of during a 1Xtra Live tour. Simone F
Rachel Sermanni
Highlander Rachel Sermanni's name may be on the marquee but she'll be bringing a wonderful live band to Reading, including an array of fiddle players, drummers, and backing vocalists. Expect delicate and carefully composed folk, with fragile but endearing melodies. There will be heartwarming songwriting on display as well as a few bleak laments. Rachel may not have the loudest voice in rock'n'roll but she has a tender charisma and has a knack for putting audiences at ease. With any luck she'll triumph at R&L2012. David Hayter
Having only formed in 2011 Seasfire have already been hotly tipped by the likes of XFM and Radio One's very own Steve Lamacq. The Bristol band specialise in  oh-so-charming melancholy songs with heart searching love lyrics filled with trip hop beats (think James Blake.) Seasfire's music is welcoming to those midnight fears of not wanting to sleep, even though your body quivers falling down naked, refusing is a must, as are Seasfire on the BBC Stage. Simone F
The Establishment
The Establishment are probably the only band playing at Reading and Leeds 2012 to feature a former Nottingham Forrest Midfielder in their ranks. Still this isn't a total lads band, The Establishment have an old school feel and rely of swooning melodies rather than brutish chants or raucous guitars. The Establishment will bring some indie soul and solid production values to the BBC Introducing Stage. David Hayter
Crooked Tongues are a self confessed 'rock 'n' roll quartet hailing from Leeds': on first impression, Oasis springs to mind, second impression says otherwise laddish dominance. The band are building up a reputation with their, shall I say their 90's unashamedly stage presence? The boys are not to be sneered at for trying to revive an era, even if one such band fell for on April Fools day. Having said that, Crooked Tongues sound is very British and they should be celebrated not sneered at. Simone F 
Glassbody
The final band on our BBC Introducing run through are Leeds lads Glassbody. Unlike some of their fellow Leeds locals on the Introducing line up, Glassbody favour more considered indie to raging post-hardcore. This band deals in slow builds, gentle textures, and emotionally frayed inflections. In other words they're closer to The Antlers and Foals than they are to say The Kaiser Chiefs. If you want an intelligently epic opening to your Sunday morning Glassbody might just be able to provide it. David Hayter
Simone F says: The BBC Introducing Stage has always been a firm favourite of mine; year after year that tiny stage in the middle of the arena has catered for best of the best talent. Although this year for me personally there are not many stand out bands, like last years brilliant Spector, Fixers, Outfit, Funeral Suits and um Rizzle Kicks, whom have all gone on to greater things. In the terms of stand outs for 2012 are Mikill Pane, who has musical contacts to get him to the front, if he keeps hanging with Ed Sheeran, he will be the biggest next thing. In the terms of guitar music, bands such as Tall Ships, Deaf Club, Wet Nuns, Dear Prudence, Samoans and Seasfire are the ones to watch for.
David Recommends: There wasn't a band that made me think Strokes in 2000 or Arctic Monkeys in 2004/5, but there was plenty to enjoy. If you like soft singer-songwriters Rachel Sermanni is a good bet. Black Moth should be a great rock out act, while The Escapists could provide a more thoughtful erh…escape, while We Walk on Ice will provide a little gothic energy.
If I had to single out two bands for success in the short term I'd definitely back Family Of The Year, they already have some potential hits, and Park Bench Society, I think the girls will really go for them.
Comments
comments