Future Rust, And Future Dust #40: R.I.P Brother – "They Were Bullied From The Start"
How do you?
Easter is upon us, two weeks of four days weeks, feels like Christmas all over again,  
no need to rush out and wrap up gifts and say thanks for the Pixie Lott album your out of touch aunt had given you. Instead we get to thrust chocolate boxed in oversize cardboard in faces of family and friends and say ''eat this, in the name of the supermarket eat it'' then watch them get the sweats, with the "I will have half now, half later" when you know, deep down they want to rip the tin foil off and lick the chocolate apart, with smears under the chin and underneath the nails, and wash it down with a pint of Whiskey, no, just me? Easter, like Christmas is for the kids, stuffing their faces and complaining of feeling sick, I will be the better person and plan an Easter Hunt for the younger members of the family, but the con is. THERE WILL BE NO CHOCOLATE!!
If I could stomach looking at an actual egg, I would decorate them using my own hair from the shower plug, lipstick and eyeliner to make Sim-mini-egg, and give it away as a gift. Actually, this is not a bad idea……You have been warned, as has Google, on how to boil an egg in the microwave
The hunt will be for Simone eggs crying into Charles Bukowski poetry books.
Music News
Other than the world's most beautiful women Samantha Brick (compared to her, we all must be ugly monkeys – comparing herself to Angelia Jolie is mind blowing) causing a media storm, the world of music has been rocked by the sadden lose of 'Grit-pop' 
Viva Bye
A victim of internet trolls
Viva Brother have officially spilt up. Many thought this was an April Fools prank, however the Slough boys confirmed this was not a stunt. I for one have been a big Viva fan, many of you are most likely thinking thank fu*k for that… However, no band deserved the amount of hate Viva had. They were bullied from the very start, yes bullied. The music industry bullied the band, the press bullied them, and the music cult fans bullied them.
Viva have pointed the blame firmly at NME, which to be fair is an outrageous statement. NME give Viva a few big features and a split cover with The Vaccines, but Viva's young flamboyant ego saw the band letting slip words that should never have been made public. The press took quotes like ''we are the future of music'' and ''we will headline Glastonbury'' and bolded them out, laughing, making the band less about their music and more about their out laddish show off quotes.
Like Peter Doherty, Viva were the easy targets, many have slated and hated Doherty purely on his tabloid persona, when in fact he is a modern man poet. I am not saying Lee's lyrics where poetic genius, but for such a young band, they had potential. Live they were able to get the crowd moshing and hysterically mouthing back the lyrics to their 'Grit-Pop' sound.
At the end of their short lived career Viva can have the last laugh. They have toured with Morrissey, The Wombats, as well as taking off on their own headline tour and travelling to Japan, America, and all in all sold over 40,000 albums, gained a great deal of  press coverage – love them or hate them Viva got their faces out there (not many bands can say that)
Music is about opinions, some artists we love, some we hate. The next persons love, could be the fourth persons hate. Music is about opinions, but not of opinions of hate, what happened to respecting other people's art? (read bottom of article for Viva Brother's final recording)
RIP in Viva Brother
New band The Heartbreaks went on Twitter and not only dissed Viva Brother for being an April Fools band, but went onto say, that Spector are too an April Fools band. Spector simply responding with a casual who? Well played.
Now can bands please stop using the internet to slag each other off, and only fight via NME?
Future Rust, And Future Dust's Single Of The Week 
2:54 – You're Early
One of my bands to watch, 2:54, are living up to expectation this year. The Dalston sisters are set to release their second single 'You're Early' on  Fiction Records. Having already been bigged up by their peers The Maccabees and Wild Beasts (having toured with them also) the duo, are their own movements, off their own back.  'You're Early' is feisty, murky with drums. 2:54 are heading out onto the road in May, before ending the tour end London Scala, catch them playing intimate venues while you can. 2:54 are flying the flag for moody girl band, while we await the return of Warpaint.
The music video was directed by Jeppe Kolstrup, who also directed 2:54 first music video 'Scarlet', has created a similar musical vision of dark, mysterious, atmosphere and open planned.
PEACE – Follow Baby
Future Rust, And Future Dusts, new favourite tropical infused indie band are Birmingham's PEACE, and they have just released a new music video for 'Follow Baby'. A track which is dripping with young teenager reverb sweetened into melodic anthem with electronic layered guitars. PEACE have just finished up a mini UK tour, touring the classic hipster venues, finishing up at The Old Blue Last to a wild crowd of hair and skinny jeans.
Catch PEACE supporting The Mystery Jets in May.
Swim Deep – King City
Birmingham lo-fi band Swim Deep, have finally gone and got themselves a real music video, no more demos. Alongside another Birmingham cult band, PEACE, Swim Deep too have a reputation for  awesome kick arse live underground shows, within the B-Town scene (Birmingham, keep up)
The music video for 'King City' sees the band walking around Birmingham tour city and riding through The Bull Ring. Only Swim Deep can make Birmingham seem less gloomy than the city already is.

The Vaccines – Why Should I Love You (R Stevie Moore)
The Vaccines have covered R Stevie Moore song 'Why Should I Love You' for Record Store Day 2012. The Vaccines join the ridiculous amount of bands that have decided to release limited one off vinyl records (500 to be precise). This is actually the lengthiest we have heard The Vaccines in one swift track. Not only this, but Mr Moore, will be covering the band's anthem 'Post Break-Up Sex'
The Vaccines/Moore will release 'Why Should I Love You' on a very limited 7" via OGenesis Records formed by Tim Burgess of The Charlatans fame.
Summer Camp – Can You Swallow So Much Sleep (Bombay Bicycle Club cover)
Jeremy Warmsley, the boy half of Summer Camp, released a video clip of himself and two friends named only as TAFKA and IMOL covering the tour anthem 'Can You Swallow So Much Sleep' from Reading and Leeds favourites Bombay Bicycle Club. Leaning slightly adorablt on his red acoustic guitar, only to be joined my two other people, all whom all jam on the red guitar. Pretty chilling amazing stuff, now everybody say aww, look at Jeremy.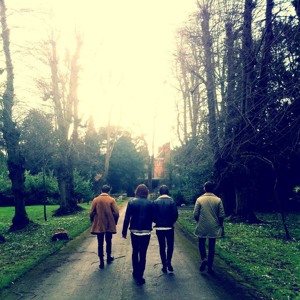 Viva Brother – I Don't Want To Be Loved
Viva Brother unfortunately went out on a sad note, I had to start and end this edition of FRAFD on the oh mighty Viva Brother, this may even be the last time I get to bug you guys with them, end of an era, an era I never thought would have happened so soon.  'I Don't Want To Be Loved' with sick sad puppy dog lyrics 'I don't want to be loved, but I need to be love/And if I snooze the alarm, then will anybody notice I'm gone?'
Whether anybody likes it or not, Viva Brother had fans, fans that stuck through thick and thin, mouthed down the haters and welcomed the lovers. I for one enjoyed defending such a band, now let's enjoy the very last released song from the Slough boys. Gone was the big loud football chant like chorus replaced with emotional depth.
*holds lighters in the air, waves pint in the other* (Download the very last Viva Brother song above.)
On that note, I have more  Samantha Brick laughter to get done, 'cos you know, all females are jealous of such a beautiful blinding person. WE HATE HER!
Until next time,
Simone
Each and every record mentioned above is worth a trip to your local record store/iTunes for, If you don't go, I may just haunt you, I can do this. I am special. Honestly you won't regret it (the buying I mean, not me haunting you.)
Comments
comments