Future Rust, And Future Dust #39
''There's a bluebird in my heart that, wants to get out, but I pour whiskey on, him and inhale, cigarette smoke, and the whores and the bartenders, and, the grocery clerks, never know that, he's in there..'' – Charles Bukowski
Indie Music News Round Up: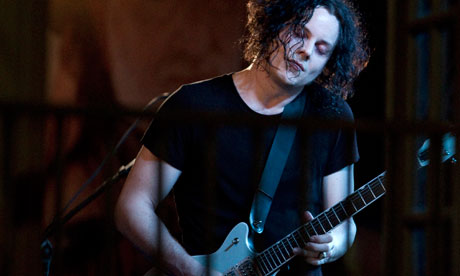 Mr Jack White has announced his first UK solo headline date at London's Hammersmith Apollo on June 22, before heading to Radio One's Big Hackney Weekend. Expect a full preview of his own solo work, although I'm sure playing a few White Stripes tracks would be blissful for the crowd. If the set list at SXSW is to go by, he will not.
Jack started his set with a female band playing mostly his solo work before performing a the second section with a male band, where he played 'Cut Like a Buffalo' (Dead Weather song), 'Steady As She Goes' (The Raconteurs) and a mixture of White Stripes hits including 'Seven Nation Army' and 'Hardest Button to Button.' I wonder if he will be bringing along any famous people to play the instruments on stage? Wouldn't it  be wonderful to see Jack play as a one man band, with every instrument loaded on his back, although I am sure this won't happen, it would be amazing, but doubtful, famous band friends anyone? Tickets go on sale Friday. Get yours, I would but one shall be getting burnt aboard, delightful.
Viva Brother are back, well almost, the band have just recently finished up the
recording process for their second album, this can only mean more pint size Brit-Grit via Slough pull along songs from one of 2011's most hated, yet discussed bands. Even if most of the mumble was bad, Viva Brother were still on the radar. Viva may not have stormed the charts by jamming into the top 10 (at one time they were), but they went into the charts at #34, and follow the album with sold out shows across the country, America, and Japan. Their second album is expected to drop around the summer time, but with the debut pushed back, who knows what the future holds? In the meantime, go viva yourself up with half price 2011 merch, ''It is what it is''
Reading and Leeds favorites The Cribs front man Ryan Jarman has recently revealed in an interview with NME, that he has 'self loathing' issues and went through heavy periods of depression during the recording sessions of the band's forthcoming album. Can we expect some bitter-sweet, nail biting lyrics? The songs already released from the new album, are just this.
Will this affect The Cribs' performances over the next few months, who knows? The first sign of recovery is to admit your issues out loud; hopefully this means Ryan can recover fully from his spilt with Harrow darling Kate Nash.
Record Store day takes place every third Saturday in April, having been founded by Independent label employee Chris Brown (not the domestic violence one) to celebrate the love of music and art via the power of a vinyl record, and in store performances by bands.
Having started in 2008, (with Metallica leading the way), Record Store Day has gone onto release many big named one off records. 2012 will see Arctic Monkeys release 'R U MINE?', while Arcade Fire release remixes of 'Sprawl II (Mountains Beyond Mountains)' see if your nearest independent record store is getting involved, and see who is releasing records for RSD.  More details HERE
Festival News
The Yorkshire Dale Festival has just released its initial line with a hormonal amount of under the radar bands. Having been cancelled last year due to weather issues, the festival is back and in a higher place than before. The line up so far includes Wild Beasts, Patrick Wolf, Factory Floor, Ghostpoet, Junior Boys, Gross Magic, Clock Opera, D/R/U/G/S, 2:54,  King Krule, Outfit, Bos Angeles and many more.
Beacons takes place the weekend before Reading and Leeds costs only £74.50 or £34.50 as a deposit (the same price as day tickets). With many lesser known festivals now producing music's next big things for such a small amount of money, you have to wonder if this one of many reasons that bigger festivals are not the instant sell outs they once were?
Land Of Kings is back this year after making its debut over the same weekend as the Royal Wedding; the Dalston darlings were not having a street party to celebrate Kate and Wills, but more of a chance to showcase London's finest bands. With a set up like The Camden Crawl spreading over a weekend, with most bars and pubs taking part and all you need is that one plastic wrist band and you are good to go. The first line up of bands include Slow Club, Toy, Factory Floor, Esser, Ben Westbeech, Rory Philips and DeeJay sets from The Horrors and Is Tropical plus many more. This being Dalston and all, expect some art shows too.
Chazzstock is the festival dedicated to former Ou Est Le Swimming Pool front man Charles or Charlie Haddon as he was know to his friends. The festival takes place in Leicestershire. Joining headliners The Vaccines and The Horrors are Tribes, Joywride, Goldheart and The Ghosts plus many more to be confirmed.
Music:
Citizens! – True Romance (Bands In Transit)
It's not everyday a company like Bands In Transit asks you to play in numerous surroundings from the back of a black van, this time it was newly awesome London-based Franz Ferdinand a like band Citizens! The razor cheeked band swam around in Camberwell arches/car wash to the dreamy synth-based song 'True Romance'. A track which lightly bounces around in the daylight.
The Horrors – Changing The Rain
The new music video from The Horrors for 'Changing The Rain' has Japanese type cartoon video and sees the band loaded on some sort of acid wavy high, or cocaine, as admitted in the press around the same time as Skying was released? Either way, 'Changing The Rain' is the ultimate laid back Horrors synth atmosphere song, just try not to mention the 'baggy' sound flowing throughout the song to anyone other than yourself, this part of FRAFD is my sub-conscious thoughts, got that?
Until next time,
Simone
Each and every record mentioned above is worth a trip to your local record store/itunes for, If you don't go, I may just haunt you, I can do this. I am special. Honestly you won't regret it (the buying I mean, not me haunting you).
Comments
comments