How does one do?
The Christmas blues are officially out of the way; January is officially here, which basically means a sudden increase of gym members misbehaving themselves with thirty-minute sweat outs. How about; don't indulge yourself and save yourself the humiliation of making yourself look weak? Who really wants to be walking around in trainers?  If you go to the gym you are allowed to eat cake okay? Perhaps don't go gym and don't eat cake? I am the latter, what are you? Shaking for the chocolate?
News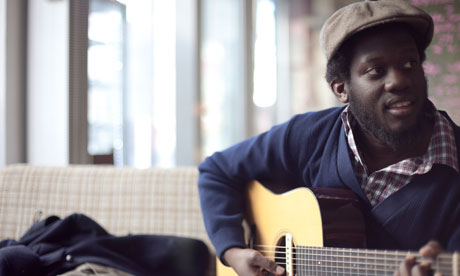 Michael Kiwanuka topped the BBC Sound of 2012 poll, he is the first male to win the award since the Mika days of 2007. Michael beat the likes of Spector, Friends, Niki & The Dove and NME's coolest person Azealia Banks. For the past few years the BBC has allowed the female pop princess to dominate, Michael did however happen to support previous BBC Sound winner Adele on her 2011 tour.
Michaels voice is one of effortless soulful beauty, he truly deserves it. Could this finally be an end to female sex pop? Bring on the soul.
The Maccabees dived straight into 2012, showing the
world they do not mess around and have released their third album to rave reviews, experimental is not even the correct word to sum the album up, there are not enough words to express how powerfully dark Given To The Wild is. The Maccabees have always been a firm live indie band; having only just released Given To The Wild they have already engraved themselves onto the UK's most important bands stone. Like The Horrors last year (sounds bizarre), The Maccabees went all out and recorded the album by themselves, evolving through thick and thin, working hard.
Coachella is getting experimental this year by hosting the same line up twice, yes twice, the audience now has a choice of which weekend to attend. If 13-15th does not float your boat fear not 20-22nd of April could do so.
Snoop Dogg celebrated his headline slot by getting arrested for cannabis possession, while The Black Keys are set to headline the opening day. Festival whores Pulp decided 2011 did not provide enough gigs and return to the dehydrated Californian desert of Indio.
Kasabian float along the mid table as do the Kaiser Chiefs. Arctic Monkeys make an appearance, as do a few smaller UK bands, The Horrors, WU LYF, Wild Beasts and Spector oh and Radiohead, yes Radiohead headline also.
It is like Radiohead are taunting the UK fans with their gigs in America and Europe, we get it, an America radio station picked 'Creep' up first then the rest of America did the same, while the UK press NME and Radio One blanked Radiohead at first, but please please do come back to us, a surprise Glastonbury set at The Park was nowhere near enough love.
Single Of The Week
Bos Angeles - Days Of Youth
Bournemouth's awesome new band, or awesome band period, Bos Angeles have released their debut single, along side a music video for 'Days Of Youth' which is swarming with drugged up drowsy guitars while unfazed lead singer Richard Board sings in a miserable stoner manner – floating around in a trippy twirl of acid, all facial expressions, sullen eyed, dead.
By far the best Youtube comment is "DIS GUY MUST BE AN ALIEN OR SUTIN!" Perhaps the crazy is referring to Turbogeist's song 'Alien Girl' which is awful similar, music video wise, not sounding.
WU LYF  -  Heavy Pop
Manchester's mysterious band came out of the woodwork to mark an appearance on The Late Show… With David Letterman in America, Jools Holland not good enough for you boys? WU LYF as always delivered a strong feisty performance even with Ellery's over dramatic approach of facing the ceiling with out stretched arms bracing the air, before ending the set with the bleeped out ''What's up, motherfuckers?!"
Before Letterman had the chance to say his goodbyes, the band was already leaving the stage, but not before some awkward talking. One does love a good WU LYF moment of ''oh look, we like mystery but lets play on American television," if you do get the chance go see WU LYF, do,  I was…still am blown away, and I am sat indoors waiting as the wind attacks the trees.
Arctic Monkeys – Black Treacle
Arctic Monkeys are back with their fourth single from Suck It And See, with yet another strangely hot music video, drummer Matt takes centre stage in an American orange jail bird jumpsuit, Alex gives us a glimpse of how his 50′s styled hair is gelled back, check out 2.22 and a women in leather shows us her filthy backside while another runs around in a pretty wedding dress, not bad for a band from Sheffield mocking the American scene.
I have re-watched the music video to gather clues to what 'Black Treacle' video is about, my thoughts? Confusion, 'Black Treacle' is a lead on from previous videos 'Suck It And See' and 'Evil Twin'' all directed by Focus Creeps. Either way, we should all embrace those cheeky monkeys music videos with leather, motorcycles and sex.
Frenetics – Ella
I managed to catch Frenetics live at The Lock Tavern over the weekend, Frenetics set had came as a surprise, after indie-pop band Montage Populaire had pulled out at last moment. Their lose, our gain, rock n roll band Frenetics took to the stage, in the rather tiny awkward set up, sucking on straws couldn't hide this fact (myself, not the actual band); awkward is always good, awkwardness, yes?
Living up to the name Frenetics energetic-ish stage presence was clearly a pleasure to watch, the band had a few decent songs and catchy riffs which were far to easy for our automatic head movements to leach onto. '666′, 'Easy Livin" 'Northern Lights' and especially the above music video for the rock n roll song 'Ella' were a pleasure to be in eye contact awkward with. 
Seriously if I hear another 'rock music is dead' comment I will personally bring that person/people/every hater for a walk down Camden high street on a weekday evening, it is like a mini walking rock n roll festival.
and on that ranting note,
Peace,
Simone
Each and every record mentioned above is worth a trip to your local record store/itunes for, If you don't go, I may just haunt you, I can do this. I am special. Honestly you won't regret it (the buying I mean, not me haunting you.)
Comments
comments