Buzzing. I am buzzing. Not like high or drunk. Buzzing like a bee. Eh? You try swallowing down pints of honey and warm water six times a day for no reason. Okay I have a reason but its not helping my cause. I have had man flu for the past two weeks, getting worse as the day goes by. Females: "Man flu is not real" Males: "Girls can't get man flu, they don't have penis"
Is there such an illness for women flu? No, didn't think so. I don't have the 'common flu', please I am way above the commoners (says my dream grandma The Queen (sorry real Nanny F)), but I don't actually have the flu, men don't really have the flu either do they? It's just an excuse to sulk around in one-week-old boxers playing Wayne Rooney on the computer box, yeah? I totally didn't do either of those.
Instead I went out and breathed my Kermit the frog voice all over strangers. I do try and avoid face-to-face, eye contact, sometimes people just like that stuff, eye contact. Face to face within metres while sobbing down your drink loaded with the water cubes. Stuff it. I say I have a good chance of being male, perhaps the sex parts.
I have a bitter taste towards 'normal female things' like flowers, chocolates, restaurants, babies, and marriage. All of which would see me running for the hills.
I like alcohol, dirty pubs and grit. I am no ladette. I am Simone. Remember or not. Whatever. I do believe it is only fair that as one is typing this with the voice of a frog (ribbit?), unable to even mutter out most of my words creating a stutter I never knew my voice could achieve: YOU reading this, YOU need to start reading in a Kermit the frog voice, come on.
Will make the article a little more interesting. Ready? Start reading, are you reading this? Still reading? Reading? How's it going? Ribbit.
Are you pulling a Pirate voice too? You alstarboard thar matey?
One more mental note, I would like to dedicate this box –> [__] to Lilijia who declared herself as my biggest fan last week. So here's to Lilijia and my gift –>[__]
Future Dust, And Future Rust Album of the week
 Summer Camp – Welcome To Condale
Did Summer Camp start the synth-pop  boy/girl duo? Maybe the boy/girl have always been there but now the sexy cat flick alternative pop duo's are all over the radar. From Slow Club to Sleigh Bells to Big Deal to Cults to Jenny and Johnny. You get my drift? A whole door has opened for genre that not so long ago would have never been given the time of day unless they were from breed in the 80′s, or did it? Was I living in my lad indie phrase for way too long? Welcome to Condale is Summer Camp's follow up to the very synth-pop  début, of course always making references to 80′s teen movies.
'Better Off Without You' reminds me of the hazy young teenager days of buzzing around with a hangover to which you wonder how one WKD got you this merry larry, but in the disco of an 80′s party. Uncool for me, I only had a couple of years in the 80′s, just breast milk and no WKD's for me. Thank you Summer Camp I can relive years that never happened. I don't need a perm, I am the perm.
We get to see Jeremy take over the main leads on 'Brian Krakow' adding a boy bubblegum clap to the chorus while Elizabeth's sexy humming voice blends ever so slightly in, making it almost 'I am not even here'. If 'Brian Kraskow' was louder and more guitar driven we would have ourselves a Sleigh Bell song. 'I Want You' is a blend of fuzzy disco pop meeting the dark alleys of keyboard taps sexing gothic creating this bull of saucy guzzy-sex (totally made that up, hit me up Urban Dictionary)
I do love that Summer Camp wrote a song called 'Summer Camp' could it be anymore nostalgic? Teenager heartbreak meets  haziness; Like walking through a foggy summers morning trying to find your other half, but not before being pestered by all things annoying. The synths are working overload with the vintage during 'Nobody Knows You' which sounds like a battered techno machine going through an unsettled Rebecca body change.
'Down' exposes the boy/girl vocals, blending into each other creating the perfect summer pop song for an afternoon of boy/girl problem musing.
I had to knock my head around and around during 'Welcome To Condale' singing "I'm coming home/I'm coming home'' beyond upbeat summer garden fun. Is it really November?

Vibing quirky disco love,  'Done Forever' is mastered with vintage spooky sort synths that sound like a song Shoreditch underground electro hands on MDMA would fall apart for, you know leg banging is the new face swaying don't you? The echo feel to the beat made feel like it was being played in an empty electro club with only the dee jay and a few swinger playing sex eyes with each other. 'Done Forever' is only for your two ears, okay? The more I listen to 'Done Forever' the more the song reminds of a sunday afternoon in 93 Feet East, which are usually ridiculous bad, yet adorable.
'Last American Virgin' is about actually what the title says, add in some Christmas mistletoe, in a 'oh no' cheery way. Girl asks, boy does. Huh? 'Ghost Train' yes, 'Ghost Train' from the Ghost Train EP back in 2010. I forgot how much I loved this song, I re found my love for 'Ghost Train.' Brings such fuzzy sexual feelings, re- mastered of course.
Strictly Our Opinion: You can always rely on Summer Camp to bring the synth-pop groove even with the drawback of being a summer album, you can look out of your window with the orange and brown leaves stutterer over the ground, but with Summer Camp it feels like summer. Cook yourself a veggie burger, light up the barbecues.
Welcome To Condale is filled with vintage synths mixed with teen movie references spurred all over the songs, personal highlight for me is hooky 'Done Forever'. They own boy/girl. A crown they should take and hang by their vintage knits [4.0/5.0]
Future Dust, And Future Rust Single of the week
The Vaccines – Tiger Blood (Wetsuit B-side)
You want? Albert Hammond Jr? The Strokes? The Vaccines? Yeah I see it. 'Tiger Blood' has one of the century's greatest bands The Strokes written all over it. Come to think about it, it was about time you know, from one awesomeness to another? BUT you can hear The Vaccines sound in there, if you can't then you clearly have not listened to The Vaccines more than two-thousand times like me (LastFm does not lie, does it?) 'Tiger Blood' is bouncy, catchy pop while still managing to part around the two minute mark. Hello, we need more than two minutes. 'Tiger Blood' went by so fast I had to listen over and over again for the full on effect.
The Drums – I Can't Save Your Life ('How It Ended' Bside)
I am a Drums fanny. Listening to them brings an emotion one should not endure. Jonathan's sad voice brings delight into my life, I know. Bitch right? However I can't help my pull my heart over my head and give The Drums all my power of love. 'I Can't Save Your Life' is the dampen of The Drums with another twist on the old emotional. What a wonderful vinyl 'How It Ended' with 'I Can't Save Your Life' as the titles. Sometimes just sometimes, I wonder if The Drums crave the negativity  and hate for people? As a person who occasionally does not like people, actually most of the time, I could think "I can't save your life, but I can help you save your life".  Make sense?
I do wonder if the band listen to far too much Orange Juice at times. Too much is never too much, if I may say so.
The Kills – Baby Says
New single from the ever sexual Kills. When current album Blood Pressures came out I found 'Baby Says' as one of the weaker songs on the record fast forward months later and 'Baby Says' is one my favourites. There is something about the moody drunken blues that pitches within 'Baby Says' making it an undefended role as a love song.
The music video sees Alison and Jamie swap genders. Alison is Jamie and Jamie is Alison. We don't get to see much of them, I do wonder if Jamie can pull of the feisty sex female well? Instead we see lots of trannies on a night out in leather, skirt shorts and make up. Lots of it. One to be enjoyed. Now where to find my other gender role?
 Future Dust, And Future Rust recommends
Duo-some Crushed Beaks have created this lo-fi intense drum/guitar music, balled into a balloon of fuzzy energy, and filled into beautiful melodies.
Their song 'Sun Dogs' is wavy with the moody 'don't give a F' vocals layered upon the stinking kicking guitars as tense as a virgin trying to 'pop' too early (I pictured Jim from American Pie, did you?)
Future Dust, And Future Rust caught live this week
Busy, busy, busy.
27th October – Veronica Falls – Barfly
Unforgettably I didn't manage to get to Barfly until way past 10pm, I pretty much missed the start of Veronica Falls set, I hate missing the start. I always feel like I cannot get into the gig as much as I would have.  As time went by the music got moody and darker sparking out their ghostly horror sound bringing chilly chills down my arms when the band played 'Found Love in a Graveyard' at what seemed like double the pace. The band kept the their minimum guitars and drum taps.
Veronica Falls ended their set with the super intense Gothic 'Come On Over.' As they were leaving the stage someone asked them to play 'Starry Eyes' without much hassle Veronica Falls got up and played with smiles never seen for the previous parts of their set. I just wish I could have been emotional involved, and not in a rush.
28th October – Tribes – Electric Ballroom
Electric Ballroom was the homecoming for Camden boys Tribes. Sold out may I add.
The smiles never left the face of any of them. Lead singer Johnny had the hugest grin. For a band over a year ago deciding to band it together to have created this huge response of uproar, whilst still staying underground.

Tribes practically bounced on stage with the never mind blinding light shows, they were buzzing and ready to watch the crowd fall over every single note. From the moment the band counted themselves in there was no stopping for the full 45minute set. 'Whenever' was the starting point, one of the first demos ever to reach my ears where the only words I could express was "WOW'': the crowd rampaged. Cider all down my blouse (may I add it was sheer, so yeah) hair in faces. Jumping on random backs only to realise that person is actually a long time no see friend. This was on the first song. Straight in next was the terrific 'Girlfriend' right onto 'Saphho' then 'When My Day Comes'; were Tribes trying to kill us with their Libertines type songs and attitude?
'Coming Of Age' was beauty drowned in lager and all sorts of male skin rubs. 'Dumb It Down' was even more amazing; this is when I noticed the old couple behind me. Fifties at least. They were in their rockers glory. The remaining fifteens minutes was a sing along with 'Nightdriving', and we sang the alcohol out of our lungs, kidneys whatever. No air during 'We Were Children', where we grabbed the necks of the nearest to us with our hands in the air for the Tribes finale "we were children in the mid 90′s'' I was, were you? Now which band members did I not see from another bands?
Plus Kentish Fire – The Wheelbarrow
The plan was 'not to go to The Wheelbarrow' and guess were I ended up? Oh yes The Wheelbarrow. The plan was to go sniff Whiskey in the other end of Camden, with some rockers, but with Tribes ending before 10pm (stupid club nights). I did no such activity. Instead I stumbled across an upbeat indie-synth band. Who without a doubt have the most enthusiastic stage presence I have seen from a new band in a while, the  Synth player owned his tiny corner, I don't remember his name but I do remember Moby. Lead singer and guitarist Michael and bass and vocalists Anna had the sex factor while singing into each other faces, of course they're no Jamie And Alison of The Kills (no-one will top them, hear me? No-one) all this whilst lead guitarist Andrew shook his dreadlocks like sand snakes being blessed by the grooves.
You could see the fire in their eyes, it was burning. Or maybe the band banner is making me think those thoughts? 'Unpredictable' went down a treat had everybody moving their feet (even with a heavily annoying drunk women swarming around)
If you are a fan of LCD Soundsystem, or even a little bit of Metronomy, Kentish Fire will serve their purpose well. Lead singer and guitarist Michael always happened to have curly hair, this always seems to be the main talking part. Hair. Hair and lots of curly strands.
Is also nice to go watch a band, without being pestered to do so before hand. I forgot how much I enjoy the stumbling into venues with bands I don't even know. Win, win.
Check out their Bampcamp page and music video for 'Unpredictable' you know you fancy it.
29th October – Freeze Festival – Battersea Power Station
Hospitality came along side a free range of alcoholic beverages. Coors beer and vodka with a relentless of your choice, original always original. I did forgot must of the time that I was sat across a leather couch in Battersea Power Station's car park watching snow boarders fly jumping like spider man but on skis? Down the snow slope. I don't know much about snowboarding but I had fun saying lots of 'ah's and 'wows' in between my one worded fun I managed to catch
My indie darlings Spector, the too cool for school, always suit wearing but not quite moping Dalston band. Spector took to the stage of not so many hand claps (I did enthusiastically, then I carried my eyes to my hands) socially awkward lead singer Fred Macpherson thrusted his crouch to the point of having to pull his sharp booted trousers up quite a few times during the short but sweet set. Fred awkwardly tried to make small talk with the even smaller crowd.
Something about Rizzle Kicks and hats or more the hecklings hats standing right next to me, but every sentence that left Fred's mouth felt quotable. Both on and off stage. Like a piece of worded witty art.
The hecklers never got bored, neither did my stares. Beyond an awkward set. Fred swooned his way through the ever-dreamy pop 'What You Wanted' which Fred seems to jump in the air grabbing the microphone on his way 'Grey Suit And Tie' being a new favourite. The main highlight is hand clapper finale 'Never Fade Away' which charms the lipstick from my lips away. As the rest of the Spector leave the stage Fred heads back to collect the suit jacket he threw off during 'Never Fade Away' to which another group of people threw a bottle straight into Fred's face. How delightful.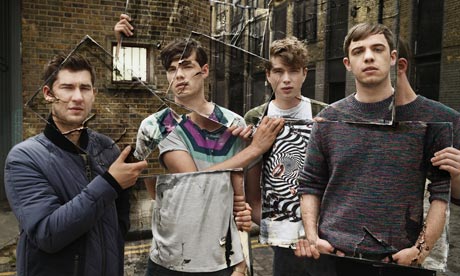 Listening to Everything Everything is like trying to solve a maths equation involving the periodic table. Together they should not work, bring them together you have the too smart for their own good Everything Everything. Singer keyboardist Jonathan has the voice of amazement, beyond fascinating. He has one of those voices you can listen to all day and still sit there asking ''what is he singing about'' over and over again. It does not matter. Okay? Main highlight where the crowd are able to sing back the words was 'My Kz Ur Bf' but the crowd sucked. I wont even call that a crowd, just a gathering of people. 
Officially the last The Streets gig in London, ever. Mr Mike Skinner after ten years has finally given in and is retiring. I expect no Lily Allen type of retirement either, I expect to never again see Mike Skinner. The main stage tent for the first time the whole day was blocked with Skinner fans in their polo skirts and dashing flashing lights rings.
It felt like a big send off more than a ''I am here to watch The Streets'' motto. I used to be a huge Mike Skinner fan only a few years back, but as time went on I lost interest. Yet I still managed to spit my Skinner lyrics out, of course, even louder on 'Blinded By The Light' when Skinner mentions me, blates. ''You have no new messages, so why haven't they phoned? 
Menu, write message, so where are you and Simone?''
The crowd were over hyped, although not all tempted to bounce up at the same time when Mike begged us all to sit on the floor. Considering the sound was not so great and I have seen The Streets a million times better than what should have been the end of the road show, but I keep telling myself the fans where their for the party and say their goodbyes not the quality of sound or Mike and his millionth crew. The set was short and sweet, fired with drunkenness and talk about Wales. When the set was coming to an emotional end Mike Skinner muttered something about his phone and ordering a pizza by an app, magic huh? Whether it turned up is a different story. So here's to The Streets and all the alcohol Mike has consumed over the past years, now 'Dry Your Eyes' mate come on. 
30th October -Arctic Monkeys -O2 Arena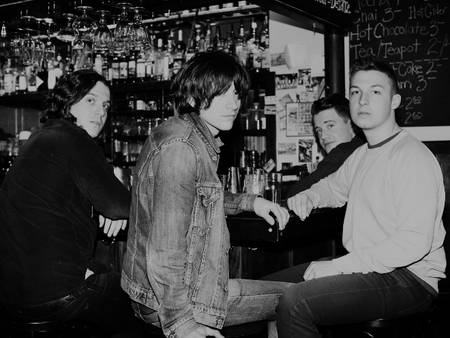 'You Sexy Thing' no not you, The Arctic Monkeys entered on stage to 'You Sexy Thing' bearing the look of 'we can do this' confidence which is far from the shy look to the floor lads only a six years ago, who have since gone onto become one of the UK's most leading guitar bands, with four smash hit albums, festival headline shows and selling out their very own arena tour under their golden northern belts.
The Monkeys started the set with the bigger 'Don't Sit Down 'Cause I've Moved Your Chair' the lead single from current album Suck It And See, which was tore about but from the energy of the crowd. Straight into 'Teddy Picker' and 'Crying Lightning', 'The Hellcat Spangled Shalala, 'Black Treacle' 'Brainstorm' and 'View From The Afternoon'. I guess we can forgive the Alex Turner for the little crowd interaction, bands are there to perform not try and mutter small talk. 'I Bet You Look Good On The Dance Floor' always goes down as a crowd sing along although the air supply was running extremely low, we managed to catch our feet and pick up our phones (well me) during the current b-side 'Evil Twin' The Monkeys then bounced straight into the joker song 'Brick By Brick' 'Dance Little Liar', 'This House Is A Circus' 'Still Take You Home' and 'Pretty Visitors'
I actually forgot how much fun I was having until 'She's Thunderstorms' 'Fluorescent Adolescent' and 'When The Sun Goes Down' were played, then I knew I was having a ball of a time.
The band sweep away only to come back for the big encore Alex came back combing his 50′s styled hair that would fit perfectly in Grease "Oh Danny" for 'Suck It and See' 'Mardy Bum' and '505′ within that the no frills show was over. The band had made the crowd into a chaotic frenzy with no real light show. Just the band and the crowd.
Pure rock n roll.
I need a lie down or more buzzing honey.
Peace,
Simone
Each and every record mentioned above is worth a trip to your local record store/itunes for, If you don't go, I may just haunt you, I can do this. I am special. Honestly you won't regret it (the buying I mean, not me haunting you.)
Comments
comments