This week I had a big freak out, no not over my age thing again. Something that makes me feel completed, no not my lungs nor kidney. Although not having those means how would I never be to feel the air running down my trachea? And well I most certainly know my Kidney is not as brave as it was when I was a non-drinking young'un, oh the days of no responsibility. My freak out was even bigger than kidneys and my trachea.
My lipstick bag went walkabouts. I say missing; at the time I thought someone had purposely stolen my beautiful stash of life. I cursed. A lot. I pinched myself. I liked. A lot. I thought about the evil spirit that haunts the poor estate man in 'The Black Women' and decided that she was in fact my thief. I put my coat on in fumes of need for a drink plus I was ever so late (always). Put my hands in my pocket. Phone check. Keys check.
Hang on, what is this? That's right a build up of fifteen lipsticks all-partying with my sugar free gum. Without a care in the world. Breakdown over. Being twenty-three really is breaking me down. Pocket lipstick build up would never have happened if my age had not turned the 365-day mark this month.
Now pout.
Future Dust, And Future Rust Album of the week
Florence And The Machine – Ceremonials
Florence And The Machine is back with the follow up from 2009′s Lungs with the ever eagerly anticipated second album Ceremonials. No longer just the girl who played Reading and Leeds, more a superstar in waiting her presence in Heaven. Ceremonials is not actually due out to next week falling on Halloween which quite frankly after listening to Ceremonials it makes perfect sense. I was given a sneak preview a while back, now I can share my thoughts with the world, okay lie. I can share them with you wherever you are in the world. The legal way.
Florence is pulling all the correct beaten harp strings gloomy synths in opener 'Only It For A Night' personally 'Only It For A Night' seems quite a slow burner, waiting slowly for the newly lit candle to burn down before exchanging arousing eye contact. 'Shake It Out' is what Florence is best known for the over loud dramatic layers of guitars, head blinding harmonies blending into a tall fizzy red headed Toronto of strings.
Ever ghostly presence lead single 'What The Water Gave Me' hits a subconscious nerve with the over present amount of guitars and harp. ''Lay me down/Let the only sound to the overflow, pockets full of stones" is laid bare emotional line taken away from the rest of the other wise over instrumented song. Drops. The harp at the end of the end 'What The Water Gave Me' adds to this quite delicate sound.
Florence goes all church hymns with 'Never Let Me Go' on us. Complete with a chorus of a choir and screeches. The screeches that make me forget how much I hated the Florence screeches. By the end I was furiously plucking my Marshal's away from my hearing this Beyonce 'Halo' type of song. I took a break. Had some coffee complete with Tia Maria, you know to warm my head away from the torture. Then I remembered whilst waiting for the kettle to boil that Florence does have a keen hearing for delightful melodies wherever I like them or not. I stood fighting with 'Sim' and 'One' for a good few moments. I was glad to be back for the rather chirpy 'Breaking Down' with this low-flowing vocal caught within instrumental led song. No screeches. No breakdown from 'Sim'.
'Lover To Lover' has banging piano keys (I don't mean banging the street term banging okay?) Which brings Florence howling vocals into a soul vibe while staying true to The Machine style. 'Sim' didn't enjoy this. 'One' did.
The drumming build up on 'No Light, No Light' really kicks the song into a crawl of energy. Florence lightly starts off the intro than the drums kick off again creating this big ray of sun, you know 'cos there is no light? I can picture Florence with her theoretical hands in the air with her flowing red locks swaying with the drum kicks. I actually really enjoyed 'No Light, No Light' so much I listened on repeat; did I pretend to be Florence? No, I was doing my Thomas Cohen from S.C.U.M dance, which I have been producing my theoretical arm movements.
Yes 'Seven Devils' does what the title says. Distressing, disturbingly, ghostly organs hammered with a piano making this frightening thunderstorm sound. 'Seven Devils' keeps on giving and giving into a huge nerving climax. Fine you can un-tense yourself now, its over.
'Heartlines' sounds like chanting African voodoo spell gone intense mixed up in this powerful witches strike. Lyrical 'Heartlines' is beautiful absurd.
Is Florence trying to do a Zola Jesus on 'Spectrum' was my first thought than 'Spectrum' kicks in and I realised no way? Zola has class. Than I thought ouch my ears hurt. Florence takes her screeching into  hypoglycemia mode here than the harp kicks in, I change my mind. I swayed than it happened again. My head began to develop a sudden panic of breathing space. Florence get the screw out of my head, stop hammering it in. Honestly listening to 'Spectrum' made me realise how little air I had. No air means I can't breathe. No breathing means any fingers tapping this review. I did breathe and tap on the keyboards. How lucky are you? Still feeling shaken from my claustrophobic vision.  More Lady Tia Maria please.
Last song on Ceremonials 'Leave My Body' sounds like Florence is not only saying goodbye to the end of my album 'Buy it. Make me rich. I need to hang out with my Hollywood friends.' But actually the end, like her final goodbye ssh don't tell nobody. People will talk suicide emotive thoughts. The end is the best part, I don't mean in the 'thank god, its over way' more of the style 'Leave My Body' fades out, like Florence has finally escaped from the demons.
Strictly Our Opinion: Ceremonials is filled with all things Florence; typical screeches, devils and angels, church choirs, hymn like songs and harps and some more overpowering harps.
Wherever you like Florence or not, she can sure chart her way into a melody like no other, yes she has some lungs on her to the point of pure annoyance, but her song writing has increased a ridiculous amount of confidence mostly on 'Heartlines'. An album that may as times made my ears bleed with announce, but it is album that will land her huge in the land of America. Set aside my own personal opinion, Florence And The Machine has made a wonderful ghostly album. It may not be to everyone taste including mine Ceremonials is something else [4.0/5.0]
Future Dust, And Future Rust Single of the week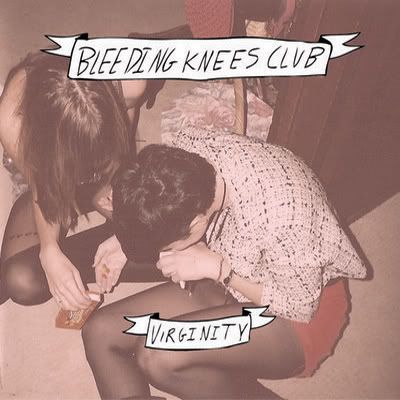 Bleeding Knees Club- Teenager Girls
Bleeding Knees Club are Australian lo-fi garage punkers have a trashy stay out late, get high, get drunk, get so off your face you don't even know your own name dirty orgy vibe sound, complete with mindless lyrics. 'Teenage Girls' is the latest song from their debut EP Virginity. I know, I know. That sentence alone tells me that want to take teenager girls virginity away, the blowers. The music video for 'Teenager Girls' may as well be an advert for American Appeal. We all take a smoking drag from an apple don't we?  Lock your daughters up. Virginity sounds cheap, it sounds fun. Just the way I like Bleeding Knees Club the poor mans Wavves.
Fixers – Majesties Ranch
'Majesties Rush' is the lead song from upcoming Imperial Goddess of Mercy EP due out in December. With a lead single like 'Majesties Ranch', which breaks into an explosion of delightful dash of summer psychedelic hypnotises pop in the autumn. Reasons like this on why Fixers played the BBC Introducing stage at this years Reading and Leeds.
Just think what the debut due out in the summer will sound like if Fixers EP's are a synth heaven.
Catch Fixers on their November tour
Front women Susan of duo No Bra actually performs with no bra on, I wish I was kidding. Her new single 'Minger' is, to be honest, not that good, you can just about understand the muttering 'Minger' verses she is trying to moan out, however the music video is pretty mind blowing in sick and death. I don't mean in the wow awesome wow. I mean wow New York City really is spectral at night. The budget was like $2, which was for the milk. Watch it and you will see where the milk ends up. Oh dears
Future Dust, And Future Rust recommends
Wild Swim are yet another beyond creative band from Oxford. Does Oxford have magical water that says 'join a band, but to the most interesting pushing boundaries affair?' Although not part of 'Blessing Force' (don't quote me on that) but are swimming firmly around the musicians of 'Blessing Force' with upcoming shows with Trophy Wife.
Wild swim have created an incredible minimalism laden dropping psychedelic guitar whilst holing into this massive atmosphere running ever so calmly over lead singer's Richard big fitting voice.
Future Dust, And Future Rust caught live this week
Bombay Bicycle Club – Brixton Academy – 19 October 
Bombay Bicycle Club brought Brixton down. If I could define the gig in one word: Spectral.
The band, the atmosphere, my cider. Beyond perfect. Three short years have seen the BBC boys release three different albums, one per year. Each album creating a very dedicated following. Brixton was swarming with admire as lead singer Jack voice echoed over the waving drums.
Opening with 'Shuffle' really showed us BBC mean business, no foreplay, no messing around. Let's have a good time. BBC played most of the first set from latest album A Different Kind Of Fix whist dipping into Flaws for the crowd pleasing 'Ivy and Gold' and 'Dust on the Ground'
The biggest highlight was the surprise of playing 'Open House' from the very first BBC EP which the crowd went animal for, pushing, shoving laying their body heat on the same sex.
During the piano ballad 'Still' the crowd fell quiet while we were charmed by its beauty, this was also a good time to reissue stares to the guy in front for almost rugby tackling me to the crowd just to get ahead of me. Its fine, I violently kicked him (in my head)
Finale 'What If' was head banging chaotic energy being spooned by the loved up crowd. Bombay Bicycle Club are indeed charming themselves into this raw live band.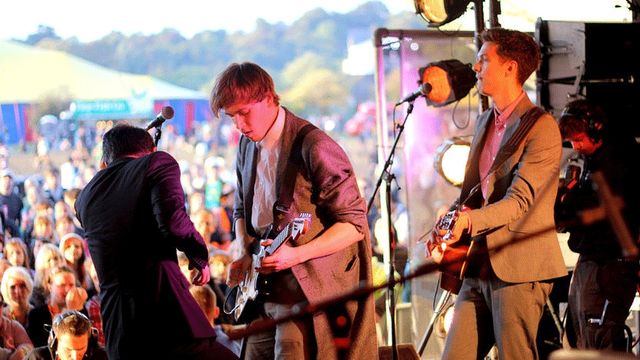 Spector – The Shacklewell Arms – 20th October 
For all you who don't know about The Shackelwell Arms in Dalston (East London) this is a tiny old mans pub but with young fresh 'upcoming' musicians or just the 'totally too cools' Although for gigs such as Spector you feel like someone has cut your oxygen radar off and breathing is no longer happening. Indeed front man Frederick Macpherson makes it all seem easy with his geeky rounded glasses streaming from his face. Spector bounced through already released 'What You Wanted' and 'Never Fade Away' yet un-released song 'Chevy Thunder' feels like a song destined for only the correct things for Dalstons new nu-romantic indie pop band.
Until next time…
Peace,
Simone
Each and every record mentioned above is worth a trip to your local record store/itunes for, If you don't go, I may just haunt you, I can do this. I am special. Honestly you won't regret it (the buying I mean, not me haunting you.)
Comments
comments